New doll pics for 2002 Collection ...
To ensure fast loading of pages ... I have opted to use these smaller images ...
Click on them to see the bigger ones !!!!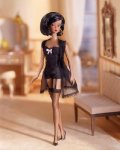 Lingerie No. 4 AA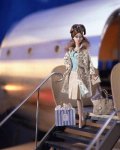 Jet Set Giftset

This set will include a brunette doll and travel fashions.
Barbie will wear a strapless merry-widow and panty ensemble
that is accented with lace trim, lace insets and aqua coloured bows.
The fashions will include a coat, pants and shirt.
The accessories included are a handbag, cosmetic case,
sunglasses, earrings, shoes, passport and magazine.
The coat will be aqua and gold that includes patch pockets, belt and faux fur collar.
The Capri pants will be gold lame and the shirt will be ivory coloured
with inverted stitch-down-pleats for formal wear.





Black Enchantment Fashion No. 6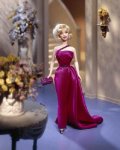 Marilyn Monroe Giftset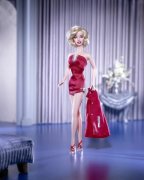 She comes with another outfit ..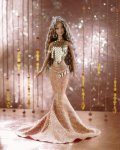 Diva No 2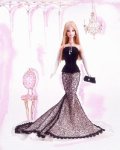 Society Girl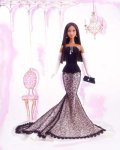 Society Girl (AA)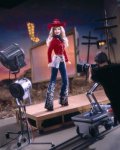 Western Chic
(New Series !)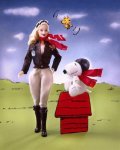 Barbie & Snoopy





Kelly & Tommy as Mickey & Minnie





Malibu Barbie
A reproduction of the original Malibu Barbie!